Melaleuca glomerata (Desert Honey-myrtle)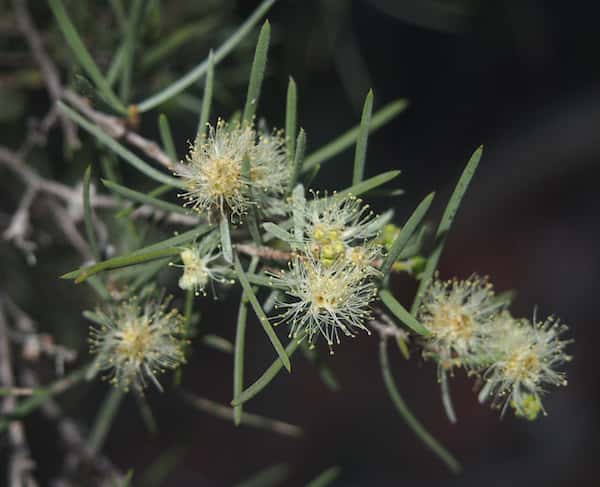 Melaleuca glomerata flowers

Photograph by Mark Marathon. Some rights reserved. (view image details)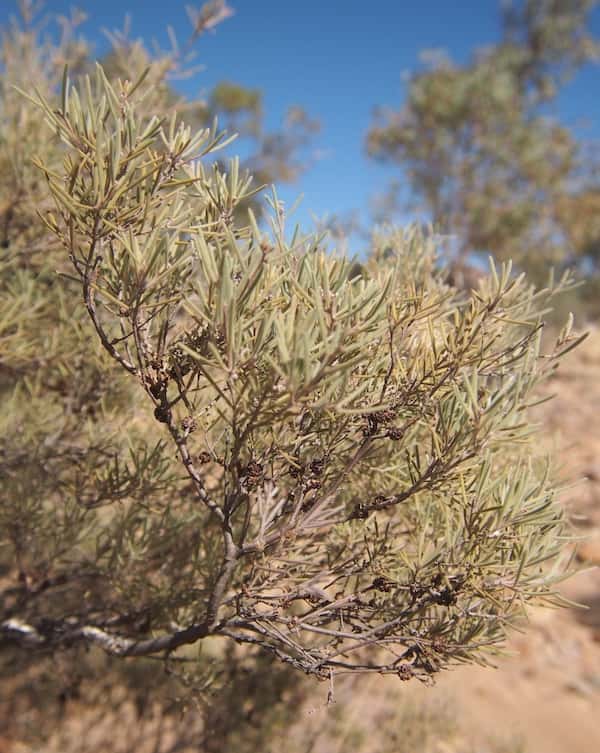 Melaleuca glomerata leaves

Photograph by Mark Marathon. Some rights reserved. (view image details)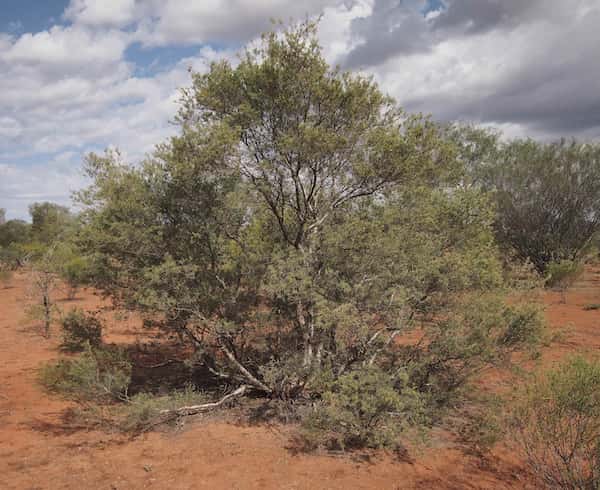 Melaleuca glomerata tree

Photograph by Mark Marathon. Some rights reserved. (view image details)


Growth Characteristics information is sourced from: State Flora Catalog, Government of South Australia Licensed under Creative Commons CC BY 4.0 license.
DESERT HONEY-MYRTLE FACTS



Map is from The Atlas of Living Australia web site, licensed under Creative Commons Attribution 3.0 Australia License


Common Name
Desert Honey-myrtle

Other Names
Inland Paperbark, White Tea-tree, Desert Paperbark

Description
The Desert Honey-myrtle is a shrub or small tree growing 3 m to 10 m tall. The bark is pale and papery. The grey-green leaves are linear and pointed and grow 1 cm to 5 cm long and 1 or 2 mm wide. The plant flowers in late spring and early summer. The flowers are white or yellow and produced in flower heads from the leaf nodes and end of branches. The fruit capsules are about 2 to 3 mm in diameter.

Habitat
arid areas, creek beds, sand flats

Distribution
The Desert Honey-myrtle is found in north west of New South Wales, central South Australia, the Northern Territory and top half of Western Australia.

Growth Characteristics
Height (m): 3 - 5
Spread (m): 3 - 5
Soil Texture: sand, loam, clay
Soil pH: acid soils, neutral soils, alkaliine soils
Frost Sensitivity: moderately sensitive
Minimum Rainfall (mm): 300
Flower Colour: cream
Flower Season: spring, summer

(source: SA State Flora Catalog)





Classification

| | |
| --- | --- |
| Class: | Magnoliopsida |
| Order: | Myrtales |
| Family: | Myrtaceae |
| Genus: | Melaleuca |
| Species: | glomerata |
| Common Name: | Desert Honey-myrtle |
Relatives in same Genus
Melaleuca acuminata
Melaleuca adnata
Melaleuca alternifolia
Melaleuca argentea
Melaleuca armillaris
Melaleuca aspalathoides
Melaleuca barlowii
Melaleuca blaeriifolia
Melaleuca bracteata
Melaleuca brevifolia
Melaleuca bromelioides
Melaleuca calothamnoides
Melaleuca calycina
Melaleuca campanae
Melaleuca cardiophylla
Melaleuca carrii
Melaleuca coccinea
Melaleuca concreta
Melaleuca conothamnoides
Melaleuca cordata
Melaleuca cucullata
see A-Z list for more ...