Eucalyptus polyanthemos (Red Box)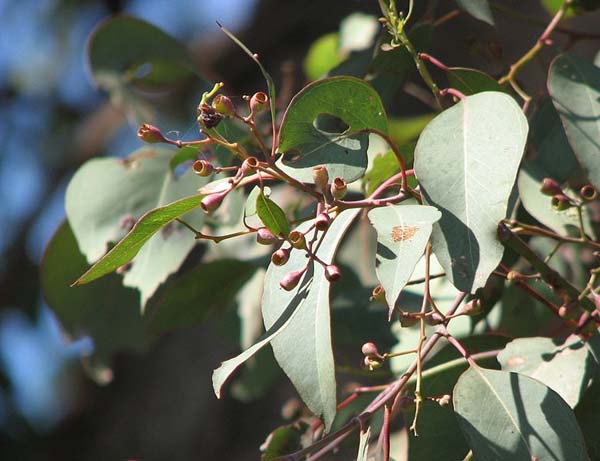 Foliage and immature fruits of Eucalyptus polyanthemos subsp. vestita, Christmas Hills, Victoria, Australia

Photograph by Melburnian. Some rights reserved. (view image details)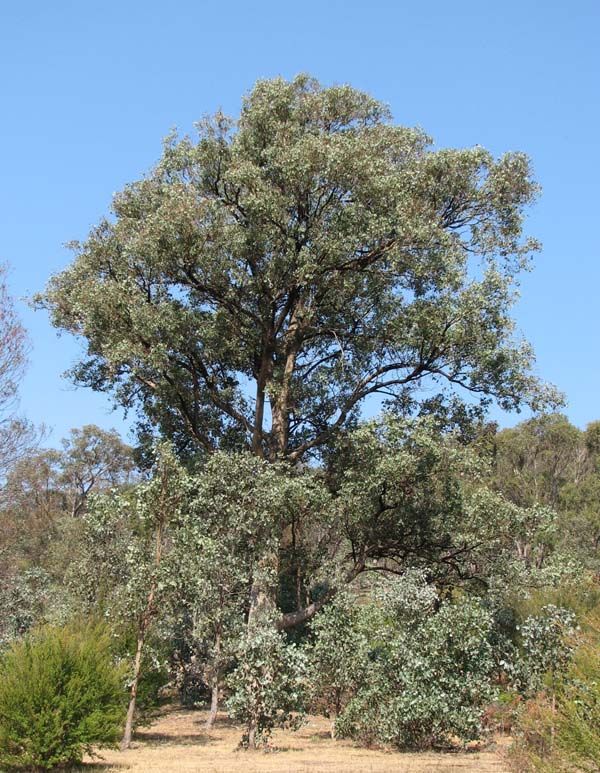 Eucalyptus polyanthemos subsp. Vestita

Photograph by Melburnian. Some rights reserved. (view image details)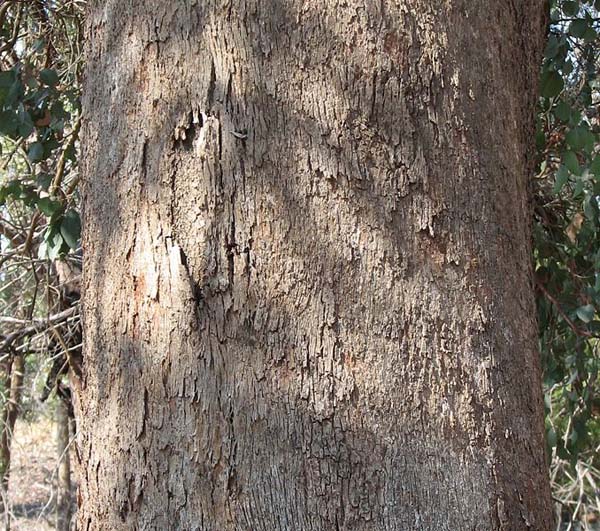 Bark of Eucalyptus polyanthemos subsp. vestita, St Andrews, Victoria, Australia

Photograph by Melburnian. Some rights reserved. (view image details)


Growth Characteristics information is sourced from: State Flora Catalog, Government of South Australia Licensed under Creative Commons CC BY 4.0 license.
RED BOX FACTS



Map is from The Atlas of Living Australia web site, licensed under Creative Commons Attribution 3.0 Australia License


Common Name
Red Box

Description
The Red Box is a tree smooth or fibrous bark, and canopy of grey green foliage. Juvenile leaves are round and adult leaves are ovate. The tree produces cluster of white or pinkish flowers in spring and summer, followed by pear-shaped fruits about 5mm long.

Distribution
New South Wales, Victoria.,

Growth Characteristics
Height (m): 10 - 25
Spread (m): 5 - 15
Soil Texture: sand, loam, clay
Soil pH: acid soils, neutral soils
Frost Sensitivity: resistant
Minimum Rainfall (mm): 500
Flower Colour: cream
Flower Season: spring, summer

(source: SA State Flora Catalog)

Propagation
seed

Wildlife Interest
attracts insect aeting birds and nectar eating birdsbirds, nectar, insects





Classification

| | |
| --- | --- |
| Class: | Magnoliopsida |
| Order: | Myrtales |
| Family: | Myrtaceae |
| Genus: | Eucalyptus |
| Species: | polyanthemos |
| Common Name: | Red Box |
Relatives in same Genus
Eucalyptus acaciiformis
Eucalyptus accedens
Eucalyptus acies
Eucalyptus albens
Eucalyptus bancroftii
Eucalyptus baxteri
Eucalyptus caleyi
Eucalyptus camaldulensis
Eucalyptus camphora
Eucalyptus cloeziana
Eucalyptus crebra
Eucalyptus crenulata
Eucalyptus curtisii
Eucalyptus dealbata
Eucalyptus dumosa
Eucalyptus eugenioides
Eucalyptus forrestiana
Eucalyptus goniocalyx
Eucalyptus grandis
Eucalyptus intertexta
Eucalyptus largiflorens
see A-Z list for more ...