Banksia marginata (Silver Banksia)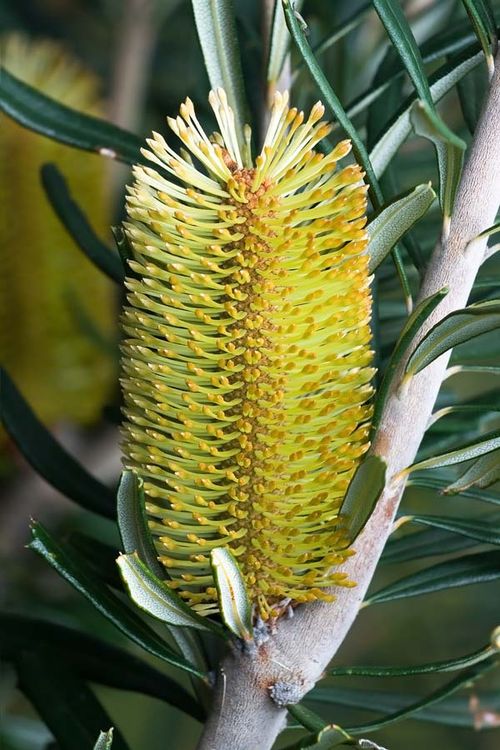 Silver Banksia (Banksia marginata)

Photograph by JJ Harrison (http://www.noodlesnacks.com/). Some rights reserved. (view image details)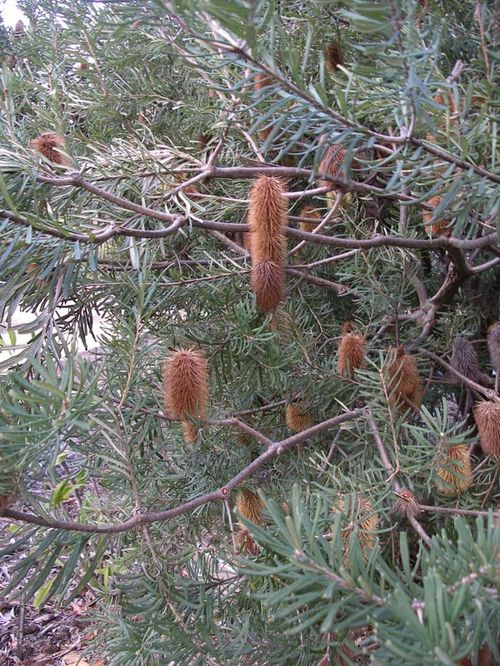 Silver Banksia (Banksia marginata)

Photograph by PDH. Some rights reserved. (view image details)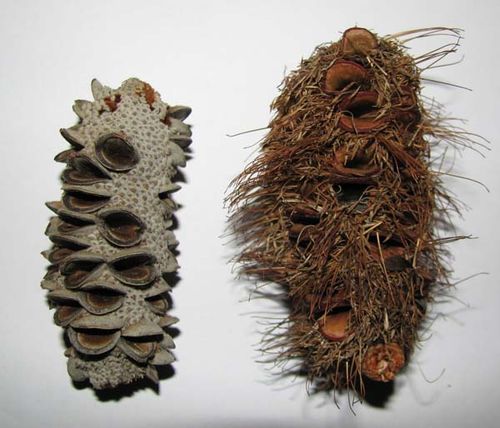 Banksia integrifolia (left) fallen on foreshore, Banksia marginata (right) from a cultivated plant, both from Mornington Peninsula, Victoria, Australia

Photograph by Melburnian. Some rights reserved. (view image details)


Growth Characteristics information is sourced from: State Flora Catalog, Government of South Australia Licensed under Creative Commons CC BY 4.0 license.
SILVER BANKSIA FACTS



Map is from The Atlas of Living Australia web site, licensed under Creative Commons Attribution 3.0 Australia License


Common Name
Silver Banksia

Other Names
Honeysuckle

Description
The Silver Banksia is quite variable in form and can grow as a tree to 10 metres tall, but is often seen as a medium sized shrub. The leaves are fairly narrow and grow to about 6 cm in length. Young leaves are toothed, but become smooth edged as they mature. The underside of the leaves has a silvery grey colour. It produces spikes of yellow flower about 5 cm to 10 cm tall in spring, summer and autumn. The fruit is a woody cone with follicles which carry the seeds. some plants have lignotubers which produce new growth after fire, other plants are killed by fire and regenerate by seed.

Habitat
found in a variety of habitats including heathland, woodland, sand dunes, flood plains.

Distribution
Banksia marginata is found Victoria, south eastern parts of South Australia, eastern New South Wales, and Tasmania including the Bass Strait islands.

Growth Characteristics
Height (m): 2 - 8
Spread (m): 1 - 5
Soil Texture: sand, loam, clay
Soil pH: acid soils, neutral soils, alkaliine soils
Frost Sensitivity: resistant
Minimum Rainfall (mm): 500
Flower Colour: yellow
Flower Season: spring, summer, autumn

(source: SA State Flora Catalog)

Wildlife Interest
birds, nectar, seed





Classification

| | |
| --- | --- |
| Class: | Magnoliopsida |
| Order: | Proteales |
| Family: | Proteaceae |
| Genus: | Banksia |
| Species: | marginata |
| Common Name: | Silver Banksia |
Relatives in same Genus
Banksia aculeata
Banksia aemula
Banksia anatona
Banksia ashbyi
Banksia attenuata
Banksia audax
Banksia baueri
Banksia baxteri
Banksia benthamiana
Banksia blechnifolia
Banksia brownii
Banksia burdettii
Banksia caleyi
Banksia candolleana
Banksia canei
Banksia carlinoides
Banksia chamaephyton
Banksia coccinea
Banksia conferta ssp conferta
Banksia conferta ssp penicillata
Banksia cuneata
see A-Z list for more ...