Banksia coccinea (Scarlet Banksia)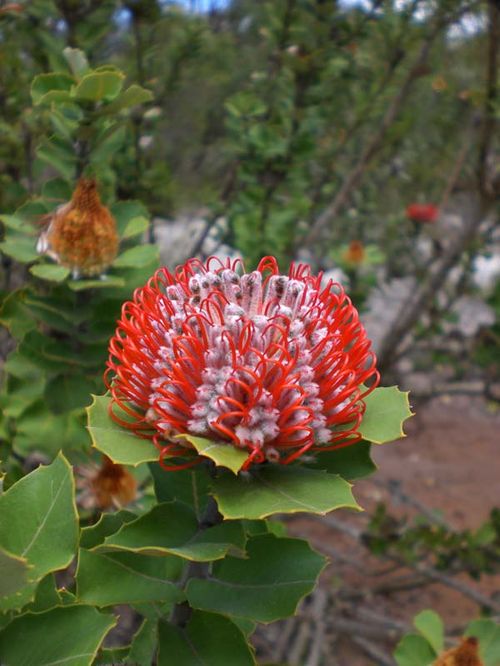 Banksia coccinea, near Frenchman Bay Road, Little Grove, Albany.

Photograph by Cygnis insignis. License: Public Domain. (view image details)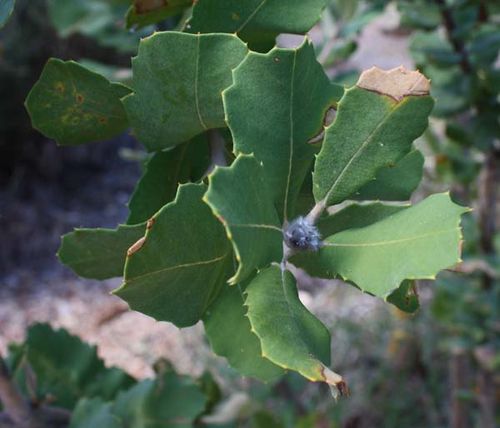 Banksia coccinea, in cultivation, Kings Park, Perth, Western Australia

Photograph by Hesperian. Some rights reserved. (view image details)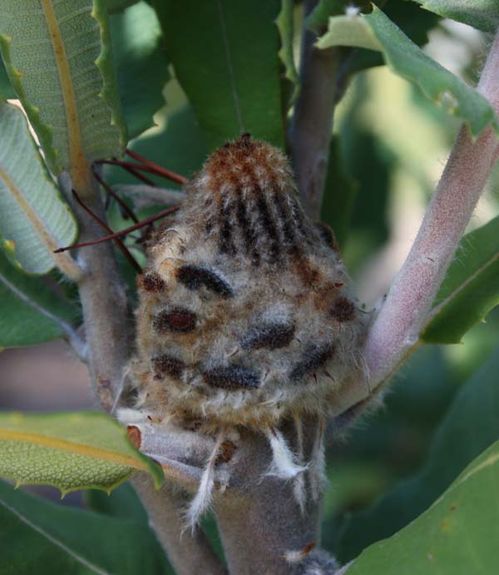 Infructescence of Banksia coccinea, in cultivation, Kings Park, Perth, Western Australia

Photograph by Hesperian. Some rights reserved. (view image details)


Growth Characteristics information is sourced from: State Flora Catalog, Government of South Australia Licensed under Creative Commons CC BY 4.0 license.
SCARLET BANKSIA FACTS



Map is from The Atlas of Living Australia web site, licensed under Creative Commons Attribution 3.0 Australia License


Common Name
Scarlet Banksia

Other Names
Waratah Banksia, Albany Banksia

Description
The Scarlet Banksia is an upright shrub or small tree. It produces spectacular red and white spikes of bottlebrush-shaped flower heads in spring and summer. The flower heads are at the end of the stem, making it an attractive cut flower. The oval leaves have blunt tips and are about 3 cm to 9cm long. the leaf edges are sharply toothed. Flowers are followed by a woody cone. It is a popular cut flower, and an attractive garden plant, although difficult to grow in Eastern states where the summer humidity is high.

Habitat
grows on sandy soil on sand dunes, heathland, low woodland and sandplains

Distribution
it is found on the south coast of Western Australia from Albany to west of Esperance.

Growth Characteristics
Height (m): 2 - 4
Spread (m): 1 - 2
Soil Texture: sand, loam
Soil pH: acid soils, neutral soils
Frost Sensitivity: sensitive / moderately sensitive
Minimum Rainfall (mm): 600
Flower Colour: red
Flower Season: winter, spring, summer

(source: SA State Flora Catalog)

Wildlife Interest
birds, nectar





Classification

| | |
| --- | --- |
| Class: | Magnoliopsida |
| Order: | Proteales |
| Family: | Proteaceae |
| Genus: | Banksia |
| Species: | coccinea |
| Common Name: | Scarlet Banksia |
Relatives in same Genus
Banksia aculeata
Banksia aemula
Banksia anatona
Banksia ashbyi
Banksia attenuata
Banksia audax
Banksia baueri
Banksia baxteri
Banksia benthamiana
Banksia blechnifolia
Banksia brownii
Banksia burdettii
Banksia caleyi
Banksia candolleana
Banksia canei
Banksia carlinoides
Banksia chamaephyton
Banksia conferta ssp conferta
Banksia conferta ssp penicillata
Banksia cuneata
Banksia dallanneyi
see A-Z list for more ...