Acacia myrtifolia (Myrtle Wattle)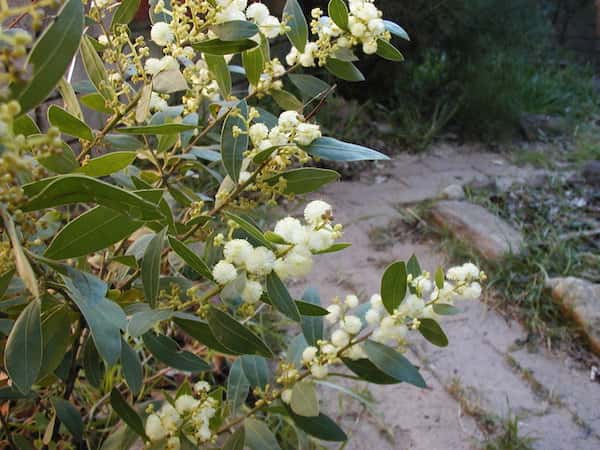 Myrtle Wattle

Photograph by Casliber. License: Public Domain. (view image details)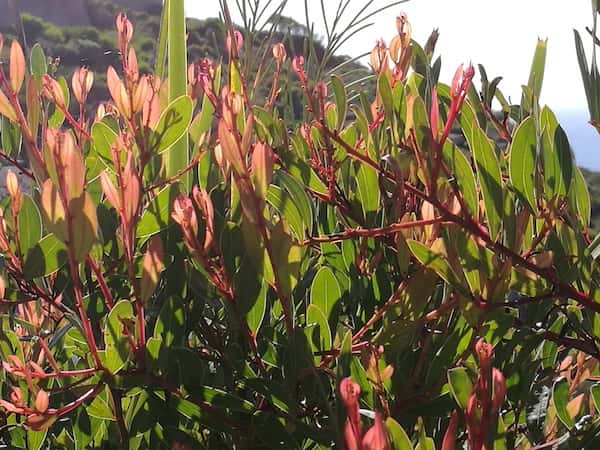 Acacia myrtifolia, Barrenjoey Lighthouse track

Photograph by Margaret Donald from Sydney. Some rights reserved. (view image details)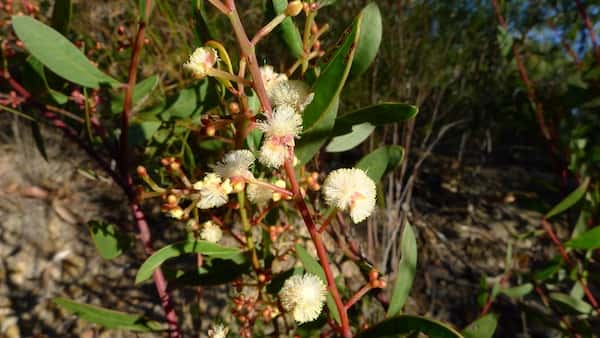 Acacia myrtifolia , Myrtle wattle, has globular flowers and red stems. Heathcote National Park, NSW

Photograph by John Tann from Sydney. Some rights reserved. (view image details)


Growth Characteristics information is sourced from: State Flora Catalog, Government of South Australia Licensed under Creative Commons CC BY 4.0 license.
MYRTLE WATTLE FACTS



Map is from The Atlas of Living Australia web site, licensed under Creative Commons Attribution 3.0 Australia License


Common Name
Myrtle Wattle

Other Names
Red stem wattle, Red-stemmed wattle, Bitter Leaf

Description
Myrtle Wattle is a small, bushy shrub that grows to about 3 m in height. It has smooth grey bark. The green phyllodes are slightly curved and narrow elliptic in shape, growing 2 cm to 12 cm long and 0.5 cm to 3 cm wide. New growth is reddish. Cream white or pale-yellow flowers are produced in winter and spring. The flower clusters have about 3 to 30 flower heads. Each flower head is spherical with a diameter of 6 mm to 13 mm. The curved seed pods grow 4 cm to 7 cm in length. The shiny brown seeds are oblong and about 4 mm long.

Habitat
open forest, woodlands scrub, heathland

Distribution
Myrtle Wattle is found in coastal and near-coastal areas of south east Queensland, eastern New South Wales, Victoria, south eastern South Australia, south west Western Australia, Tasmania.

Growth Characteristics
Height (m): 1 - 2
Spread (m): 1 - 2
Soil Texture: loam, clay
Soil pH: soils with pH less than 8
Frost Sensitivity: moderately sensitive
Minimum Rainfall (mm): 500
Flower Colour: yellow
Flower Season: spring

(source: SA State Flora Catalog)

Propagation
scarified seed

Wildlife Interest
attracts seed-eating and insect-eating birds





Classification

| | |
| --- | --- |
| Class: | Magnoliopsida |
| Order: | Fabales |
| Family: | Mimosaceae |
| Genus: | Acacia |
| Species: | myrtifolia |
| Common Name: | Myrtle Wattle |
Relatives in same Genus
Acacia acanthoclada
Acacia acinacea
Acacia acradenia
Acacia aculeatissima
Acacia alata
Acacia amblygona
Acacia amoena
Acacia aneura
Acacia aulacocarpa
Acacia auriculiformis
Acacia baileyana
Acacia beckleri
Acacia boormanii
Acacia brachybotrya
Acacia brachystachya
Acacia buxifolia
Acacia caesiella
Acacia calamifolia
Acacia cardiophylla
Acacia chrysocephala
Acacia cognata
see A-Z list for more ...