Banksia integrifolia ssp integrifolia (Coast Banksia)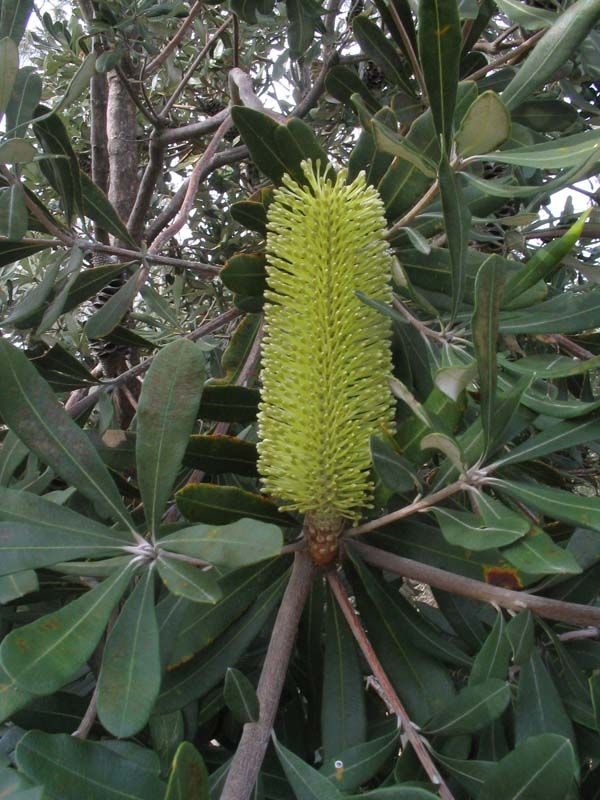 Banksia integrifolia flower spike

Photograph copyright: oznativeplants - all rights reserved.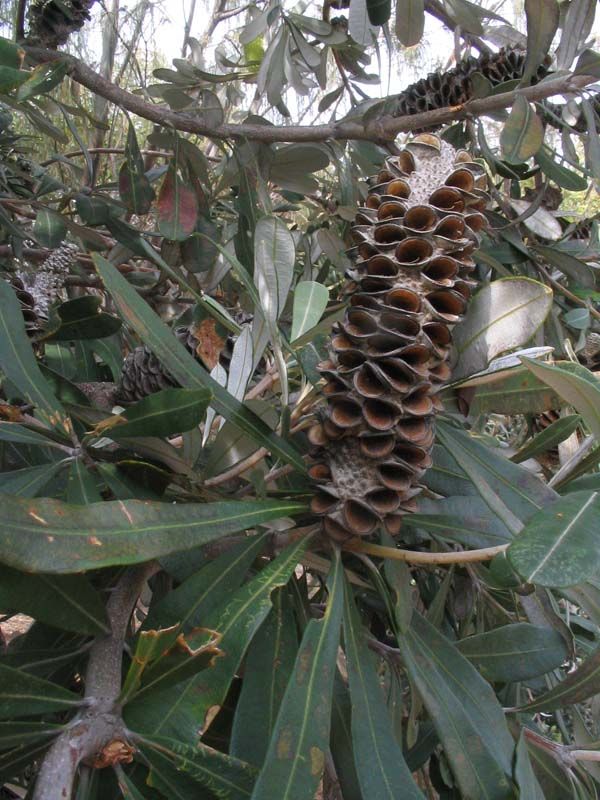 Banksia integrifolia cone

Photograph copyright: oznativeplants - all rights reserved.


COAST BANKSIA FACTS



Map is from The Atlas of Living Australia web site, licensed under Creative Commons Attribution 3.0 Australia License


Common Name
Coast Banksia

Other Names
Coastal Banksia, White Banksia, White Bottlebrush, White Honeysuckle

Description
Banksia integrifolia is a variable plant growing from a tall tree to 25 metres in height but can also be found as a small tree to five metres tall, or a large shrub in exposed areas. The plant is often upright when young, and at maturity may be less than 3m wide. The foliage is thick and leathery, dark green on the upper surface and bright silver below. The flower spikes are up to 12cm long, and pale yellow. The seed heads are dark brown, and may remain on the plant for several years. there are three subspecies - the other two are B. integrifolia subsp. compar, and B. integrifolia subsp. monticola.

Habitat
grows on sandy soils and volcanic soils on coastal heaths, coastal cliff tops, river margins

Distribution
found on east coast of Australia from southern Victoria, New South Wales, and south-east Queensland.

Growth Characteristics
Height: to 25m tall
Spread: to 3m

Wildlife Interest
attracts birds





Classification

| | |
| --- | --- |
| Class: | Magnoliopsida |
| Order: | Proteales |
| Family: | Proteaceae |
| Genus: | Banksia |
| Species: | integrifolia |
| Variety: | 'ssp integrifolia' |
| Common Name: | Coast Banksia |
Relatives in same Genus
Banksia aculeata
Banksia aemula
Banksia anatona
Banksia ashbyi
Banksia attenuata
Banksia audax
Banksia baueri
Banksia baxteri
Banksia benthamiana
Banksia blechnifolia
Banksia brownii
Banksia burdettii
Banksia caleyi
Banksia candolleana
Banksia canei
Banksia carlinoides
Banksia chamaephyton
Banksia coccinea
Banksia conferta ssp conferta
Banksia conferta ssp penicillata
Banksia cuneata
see A-Z list for more ...