Banksia caleyi (Caley's Banksia)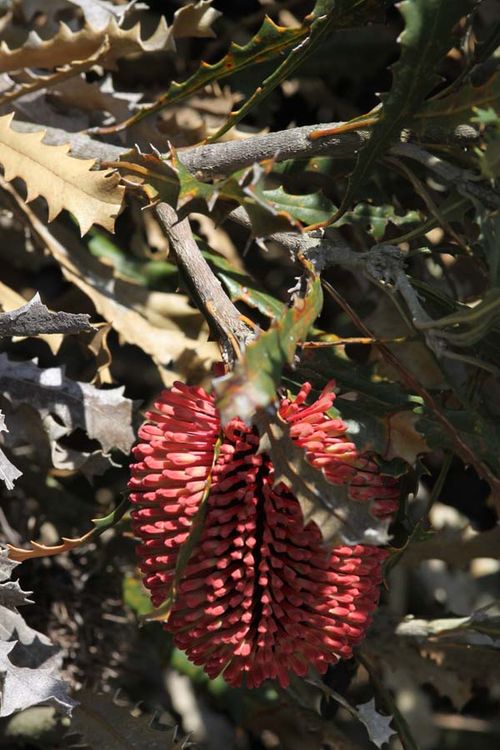 Banksia caleyi near Bamarook, Cowalellup Rd

Photograph by MainlandQuokka. Some rights reserved. (view image details)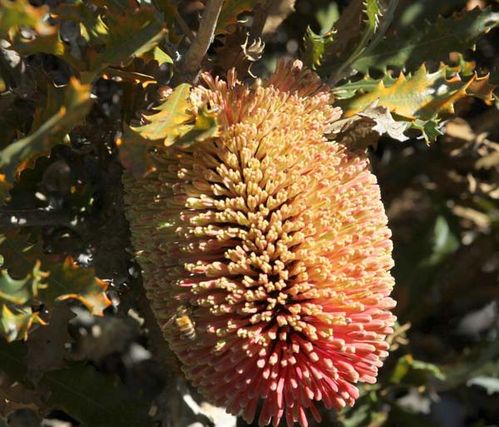 Banksia caleyi at Chingarrup, near Boxwood Hill

Photograph by MainlandQuokka. Some rights reserved. (view image details)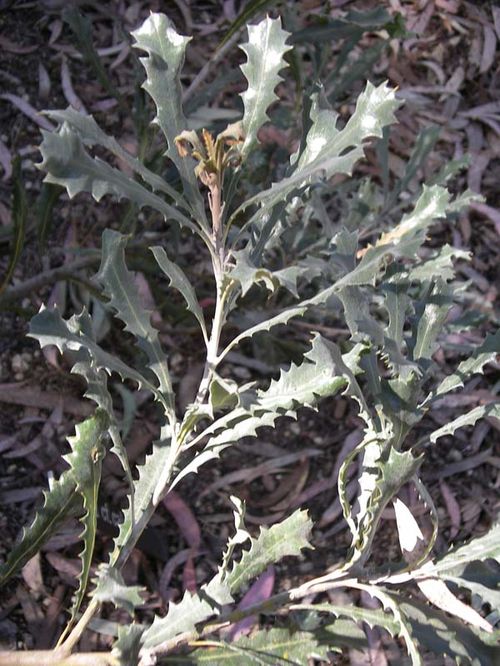 Banksia caleyi

Photograph by PDH. Some rights reserved. (view image details)


Growth Characteristics information is sourced from: State Flora Catalog, Government of South Australia Licensed under Creative Commons CC BY 4.0 license.
CALEY'S BANKSIA FACTS



Map is from The Atlas of Living Australia web site, licensed under Creative Commons Attribution 3.0 Australia License


Common Name
Caley's Banksia

Other Names
Red lantern banksia

Description
Caley's Banksia is a dense shrub that grows to two or three metres tall It has grey bark, and stiff prickly wedge-shaped serrated leaves. It produces oval shaped clusters of red, cream and red, or yellow flowers that hang downwards, giving it its common name of Red lantern Banksia. The main flowering period is in spring and summer. The flower spikes turn grey as they wither and develop into cones with up to 25 woody follicles. The plant regenerates from seed

Habitat
grows on sandy or gravelly soils and is found in mallee woodland

Distribution
southern parts of Western Australia between Albany and Esperance

Growth Characteristics
Height (m): 2 - 3
Spread (m): 2 - 4
Soil Texture: sand, loam, clay
Soil pH: soils with pH less than 8
Frost Sensitivity: resistant
Minimum Rainfall (mm): 550
Flower Colour: red / yellow
Flower Season: spring, summer

(source: SA State Flora Catalog)

Propagation
seed, cuttings,

Wildlife Interest
birds, nectar





Classification

| | |
| --- | --- |
| Class: | Magnoliopsida |
| Order: | Proteales |
| Family: | Proteaceae |
| Genus: | Banksia |
| Species: | caleyi |
| Common Name: | Caley's Banksia |
Relatives in same Genus
Banksia aculeata
Banksia aemula
Banksia anatona
Banksia ashbyi
Banksia attenuata
Banksia audax
Banksia baueri
Banksia baxteri
Banksia benthamiana
Banksia blechnifolia
Banksia brownii
Banksia burdettii
Banksia candolleana
Banksia canei
Banksia carlinoides
Banksia chamaephyton
Banksia coccinea
Banksia conferta ssp conferta
Banksia conferta ssp penicillata
Banksia cuneata
Banksia dallanneyi
see A-Z list for more ...