Banksia brownii (Brown's Banksia)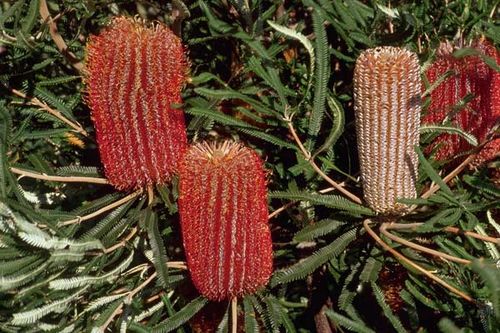 Banksia brownii, shrubby form

Photograph by Cas Liber. License: Public Domain. (view image details)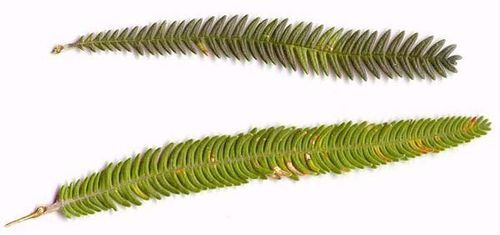 Two leaves of Banksia brownii. Above: a leaf of the shrubby "mountain form". Below: a leaf of the "Millbrook Road form", which usually grows as a tree.

Photograph by Cas Liber. License: Public Domain. (view image details)


Growth Characteristics information is sourced from: State Flora Catalog, Government of South Australia Licensed under Creative Commons CC BY 4.0 license.
BROWN'S BANKSIA FACTS



Map is from The Atlas of Living Australia web site, licensed under Creative Commons Attribution 3.0 Australia License


Common Name
Brown's Banksia

Description
Brown's Banksia (also known as the Feather-leaved Banksia) varies from a bushy shrub to open spreading shrub or small tree. This Banksia from Western Australia has attractive feather shaped leaves that grow to 10cm long a 1cm wide. The leaves are dark green above and white and hairy below, and finely divided with sickle shaped lobes to the midrib. The bark is smooth grey-brown. Brown's Banksia flower spikes are reddish brown or pale brown cylinders to 19cm in height and 10cm wide. The flowers are borne in late summer, autumn and winter. Fruit is a woody cone about 5cm in diameter that carries the withered flowers giving it a shaggy appearance. The plant does not have a lignotuber.

Habitat
grows on sandy soil, loam and gravel soils in open heathlands, mountain slopes and open forest

Distribution
Stirling Range in south west Western Australia,

Growth Characteristics
Height (m): 2 - 6
Spread (m): 2 - 3
Soil Texture: sand, loam
Soil pH: acid soils, neutral soils
Frost Sensitivity: sensitive / moderately sensitive
Minimum Rainfall (mm): 600
Flower Colour: red / brown
Flower Season: autumn, winter

(source: SA State Flora Catalog)

Wildlife Interest
birds, nectar





Classification

| | |
| --- | --- |
| Class: | Magnoliopsida |
| Order: | Proteales |
| Family: | Proteaceae |
| Genus: | Banksia |
| Species: | brownii |
| Common Name: | Brown's Banksia |
Relatives in same Genus
Banksia aculeata
Banksia aemula
Banksia anatona
Banksia ashbyi
Banksia attenuata
Banksia audax
Banksia baueri
Banksia baxteri
Banksia benthamiana
Banksia blechnifolia
Banksia burdettii
Banksia caleyi
Banksia candolleana
Banksia canei
Banksia carlinoides
Banksia chamaephyton
Banksia coccinea
Banksia conferta ssp conferta
Banksia conferta ssp penicillata
Banksia cuneata
Banksia dallanneyi
see A-Z list for more ...