Acacia salicina (Broughton Willow)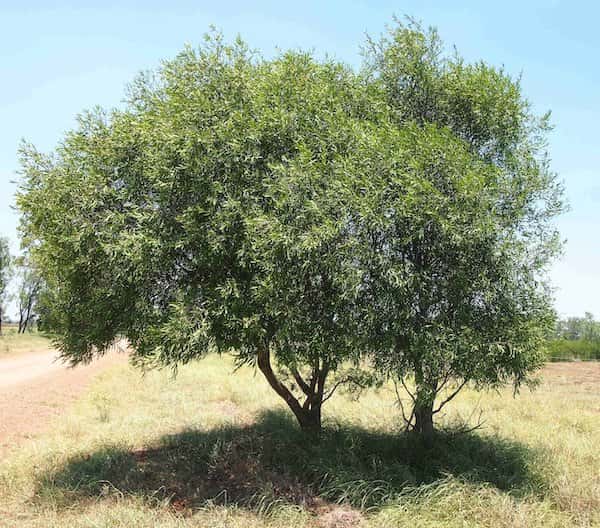 Acacia salicina tree habit

Photograph by Mark Marathon. Some rights reserved. (view image details)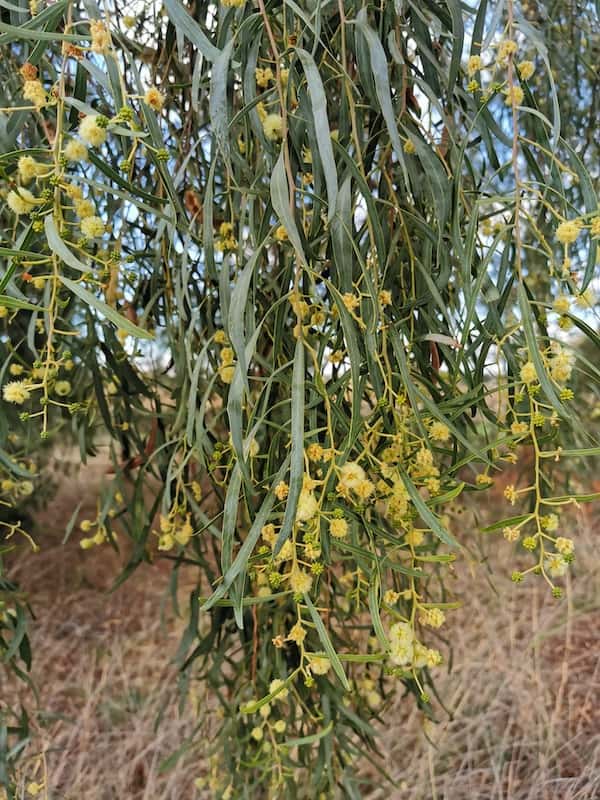 Acacia salicina flowers and foliage

Photograph by MargaretRDonald. Some rights reserved. (view image details)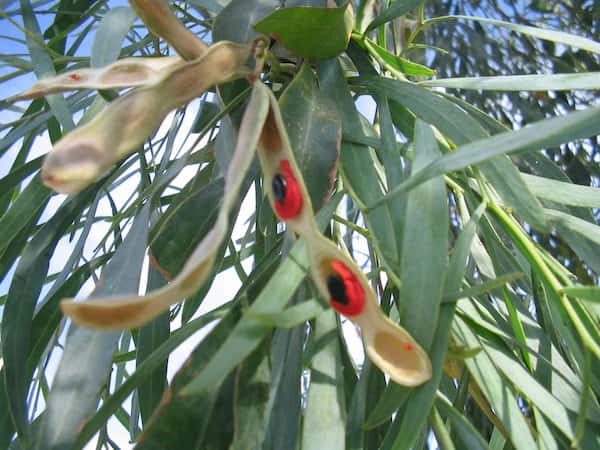 Acacia salicina foliage and seed pod showing seeds

Photograph by Photohound. Some rights reserved. (view image details)


Growth Characteristics information is sourced from: State Flora Catalog, Government of South Australia Licensed under Creative Commons CC BY 4.0 license.
BROUGHTON WILLOW FACTS



Map is from The Atlas of Living Australia web site, licensed under Creative Commons Attribution 3.0 Australia License


Common Name
Broughton Willow

Other Names
Coobah, Native Willow, Willow Wattle, Sally Wattle, Black Wattle, Doolan, Native Wattle

Description
Broughton Willow is a large shrub or tree growing 3 m to 20 m tall. The green or grey-green phyllodes droop downwards and grow about 7cm to 20 cm long and up to 30 mm wide. The plant flowers between April and June and intermittently throughout the year. The cream to pale yellow flower heads are produced in clusters of 2 to 8. The flower heads are spherical. The seed pods are narrow and oblong growing to 12 cm long and about 1 cm wide. The seeds are shiny, black and have a red aril.

Habitat
near streams , floodplains, on sand soils and clay soils.

Distribution
Broughton Willow is found in Queensland and New South Wales, extending into neighboring Northern Territory, South Australia and Victoria.

Growth Characteristics
Height (m): 4 - 10
Spread (m): 3 - 5
Soil Texture: loam, clay
Soil pH: acid soils, neutral soils, alkaliine soils
Frost Sensitivity: resistant
Minimum Rainfall (mm): 300
Flower Colour: yellow
Flower Season: winter, spring

(source: SA State Flora Catalog)

Propagation
scarified seed





Classification

| | |
| --- | --- |
| Class: | Magnoliopsida |
| Order: | Fabales |
| Family: | Mimosaceae |
| Genus: | Acacia |
| Species: | salicina |
| Common Name: | Broughton Willow |
Relatives in same Genus
Acacia acanthoclada
Acacia acinacea
Acacia acradenia
Acacia aculeatissima
Acacia alata
Acacia amblygona
Acacia amoena
Acacia aneura
Acacia aulacocarpa
Acacia auriculiformis
Acacia baileyana
Acacia beckleri
Acacia boormanii
Acacia brachybotrya
Acacia brachystachya
Acacia buxifolia
Acacia caesiella
Acacia calamifolia
Acacia cardiophylla
Acacia chrysocephala
Acacia cognata
see A-Z list for more ...