Grevillea prasina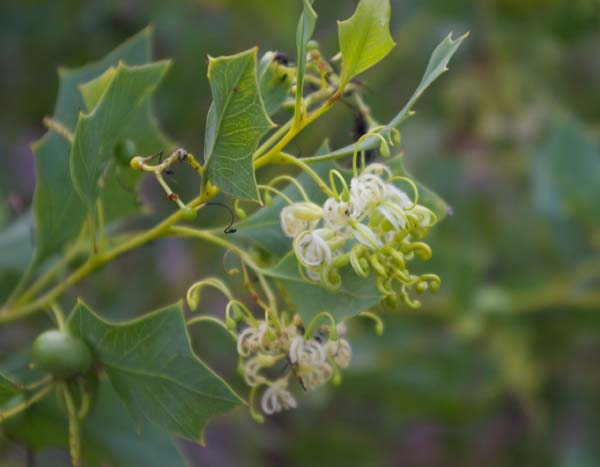 Grevillea prasina

Photograph copyright: oznativeplants - all rights reserved.


PLANT FACTS



Map is from The Atlas of Living Australia web site, licensed under Creative Commons Attribution 3.0 Australia License


Description
Grevillea prasina is a spreading or straggly shrub with simple ovate leaves about 30mm - 85mm long and 20mm - 30mm wide. Produces racemes of white, cream or yellow flowers between March and October. Fruit is warty and oblong or ellipsoidal, 10mm -16mm long.

Habitat
woodland, shrubland, or grassland. Found in rocky, stony soil, loam, sandstone escarpments, sandy stream beds.

Distribution
Western Australia, Northern Territory

Growth Characteristics
Height: 1m - 2.5m
Classification

| | |
| --- | --- |
| Class: | Magnoliopsida |
| Order: | Proteales |
| Family: | Proteaceae |
| Genus: | Grevillea |
| Species: | prasina |
Relatives in same Genus
Grevillea agrifolia
Grevillea alpina
Grevillea angulata
Grevillea arenaria
Grevillea armigera
Grevillea asparagoides
Grevillea asplenifolia
Grevillea astericosa
Grevillea baileyana
Grevillea banksii prostrate
Grevillea baueri
Grevillea bipinnatifida
Grevillea bronwenae
Grevillea candelabroides
Grevillea coccinea
Grevillea concinna
Grevillea corrugata
Grevillea crithmifolia
Grevillea decurrens
Grevillea didymobotrya
Grevillea dielsiana
see A-Z list for more ...