January 2010 : Australian Cycads
Australia has a large number of cycads (cycad plams). We have added to the cycad section of the site with a number of Macrozamia species.


July 25, 2009 : Hakeas
The Hakea genus contains a number of beautiful Australian Native flowers suitable for cultivation, as well as many species that are not commonly grown in gardens or landscape. The site now features a number of these plants.


June 20, 2009 : Bottlebrush update
Added several bottlebrush (Callistemon) native plants.


March 11, 2009 : More Grevilleas
Added some more of these great bird attracting plants ... great plants for attracting honeyeaters and lorikeets to your garden.


October 18, 2008 : Big Grevillea Update
Added some Grevilla species, with some nice close up photos of Grevillea flowers.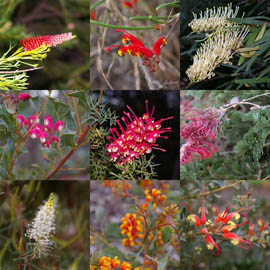 August 5, 2008 : Ferns
Some rainforest ferns added to the site, including the Staghorn Fern, Elkforn Fern and Birds Nest Fern
July 16, 2008 : Emubushes
Added some of the attractive Eremophila (Emubush) plants
June 20, 2008 : Grevilleas
Added a number of Grevillea species and cultivars.