Brachychiton
Added new pages to cover some Brachychiton species. This includes species such as the Illawarra Flame Tree, Bottle Trees and Kurrajong trees.


Australian Cycads
Australia has a large number of cycads (cycad palms). We have added to the cycad section of the site with a number of Macrozamia species.


Hakeas
The Hakea genus contains a number of beautiful Australian Native flowers suitable for cultivation, as well as many species that are not commonly grown in gardens or landscape. The site now features a number of these plants.


Grevilleas
Added some more of these great bird attracting plants.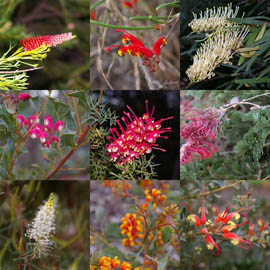 Ferns
Some rainforest ferns added to the site, including the Staghorn Fern, Elkforn Fern and Birds Nest Fern